30 avril 2014 - Déclaration de la Coordination Européenne des Comités Palestine - mardi 29 avril 2014
Le gouvernement israélien a décidé de suspendre les discussions de paix avec les Palestiniens en réponse à l'accord de réconciliation signé entre le Hamas et le Fatah. Dans sa dernière déclaration, la Coordination Européenne des Comités Palestine (CECP) demande à l'Union européenne de prendre des mesures concrètes contre l'impunité d'Israël et ses violations du droit international.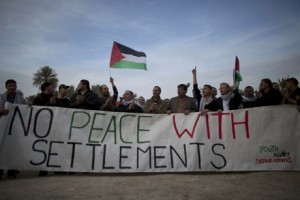 Following the Israeli government's announcement to suspend 'peace talks' with the Palestinians, issued in response to the reconciliation deal signed by Hamas and Fatah, the European Coordination of Committees and Associations for Palestine (ECCP)1 calls upon the EU to take effective action against Israeli violations of International Law, the continued annexation of Palestinian land and ongoing settlement construction, which exponentially increased during the 9 months of 'negotiations' sponsored by US Secretary of State, John Kerry.
By suspending talks over Hamas's inclusion, Israel proves that it was never seeking either a legitimate partner, or true peace. Any just and lasting peace with Israel will have to be based on a peace agreement with a unified and democratic Palestinian government.
Thus, ECCP fully supports the present attempt of the Palestinian political parties to unify.
Israel not only refused to respect the agreement to release the last group of Palestinian prisoners, who have been imprisoned for over 20 years – pre-Oslo Accords, it also announced a tender for 700 new housing units in settlements in East Jerusalem. Israel's lack of seriousness has been further compounded by its destruction of EU funded projects for Palestinians on Palestinian territory, for which the EU has failed to even demand compensation
The EU and international organizations must play their role in ending the Israeli occupation of Palestine and must uphold international law, including respect for the right of Palestinian citizens of Israel to full equality and support for the right of Palestinian refugees to return. Given Israel's refusal to respect even the minimum requirements agreed upon for the latest round of 'negotiations', the PLO exercised its right to accede to international treaties at the UN.
The EU must support all present and future Palestinian initiatives for accession to UN agencies and international treaties – starting with the Fourth Geneva Convention on the protection of civilians – and avoid contributing to Israeli violations of international law.
Given that Israel has shown itself unwilling to halt settlement construction and end its numerous further violations of international law – even as a temporary measure of good faith during 'negotiations' – the EU must live up to its commitment to condition its relations with Israel on « human rights and democratic principles, » as stipulated in Article 2 of the EU-Israel Association Agreement. Numerous EU and UN reports have concluded that Israel does not respect the basic principles of universal human rights and international law.
The EU policy of maintaining close relations with Israel as a supposed means of persuading it to end its violations of human rights and international law, and negotiate in good faith, has clearly failed.
For several months, the EU was focused on support for the Kerry initiative. With the announcement by Israel to end the 'peace talks', and given the relative retreat of the US, the EU now faces its historic responsibility regarding this conflict. The EU must now go beyond purely rhetorical declarations. Although ritually repeated over the years, none of the EU statements, with the exception of the July 2013 Guidelines, was accompanied by corresponding action. As long as the EU provides funding and other support to Israeli public and private entities that violate international law and Palestinian human rights, it cannot play a positive or successful role in achieving a just and lasting peace between Israel and the Palestinian people.
Indeed, the continued application of the EU-Israel Association Agreement, together with de-facto upgrades which occurred over the years, sends a clear message to Israel that it will not be held to the same standards as other countries that violate human rights. Maintaining the status quo regarding EU-Israel relations will only serve as a green light for Israel to continue to act with impunity.
ECCP therefore calls on the EU to suspend its Association Agreement with Israel.
In addition, the EU must issue its guidelines with a warning to businesses in relation to their involvement in illegal Israeli settlements, and in reference to the labeling of settlement products, which were initially announced for the end of 2013, but subsequently postponed until after the 'peace talks'. This, in our view, must also pave the way for the banning of Israeli settlement products in all EU member states.
Until now, the EU refrained from publishing the guidelines with the stated motive of avoiding interference with Kerry's initiative. However, in view of the present situation there is no longer any pretext to refrain from their publication.
In 2004, the International Court of Justice (ICJ) ruled that Israel's wall and settlements are illegal and that states have a legal obligation to hold Israel to account and to not render recognition, aid or assistance to Israel's violations of international law.
When the EU issued the Guidelines in July 2013, excluding Israeli entities and projects in occupied Palestinian territory from participating in EU programs or receiving EU grants, it accepted and acted upon this obligation.
Ten years on since the ICJ ruling, this principle must now be fully implemented. The EU must impose a military embargo on Israel, halt all trade with illegal Israeli settlements and ensure that European businesses do not contribute to Israeli violations of international law. At the same time, as stated above, the warning to businesses must immediately be published and the Association Agreement suspended, until Israel complies with international law.
ANNEX :
Since the resumption of US-brokered 'Peace talks' between Israel and Palestine which began in August 2013 :
– Israel announced the building of 14,000 new housing units in illegal Israeli settlements
– 3226 new units have been announced in East Jerusalem alone
– 61 Palestinians have been killed by Israeli forces
– 1751 Palestinians have been injured by Israeli forces
– 660 incidents of settler violence against Palestinians took place
– 508 Palestinian structures have been demolished
– 899 Palestinians have been displaced
– 3300 Palestinians have been arrested
Notes :
1.The European Coordination of Committees and Associations for Palestine (ECCP) is a network comprised of 48 committees, organizations, NGOs and international solidarity movements from 20 EU countries, dedicated to the struggle of the Palestinian people for freedom and justice.
2.To find out more about the destruction of EU funded projects:http://www.eccpalestine.org/israel-...
3.To find out more about the UN bodies and treaties that Palestine has signed up to :
http://nad-plo.org/userfiles/file/f...;A_Accession.pdf
4.To find out more about Israel's violations since the US led 'peace-process' started:http://www.nadplo.org/userfiles/fil...
Source : http://www.eccpalestine.org/the-stalling-of-peace-talks-eu-action-needed/